Thank you for supporting West Valley students.
The current levy is set to expire in 2022 and a replacement levy is on the February 8th ballot. Federal funds are only a fraction of what WVSD208 needs for basic education for K-12. Local levy dollars make up the remaining funds and help our schools prepare students for future success.
Ballots will be in mailboxes in January.
Don't forget to mail your vote by February 8th, 2022.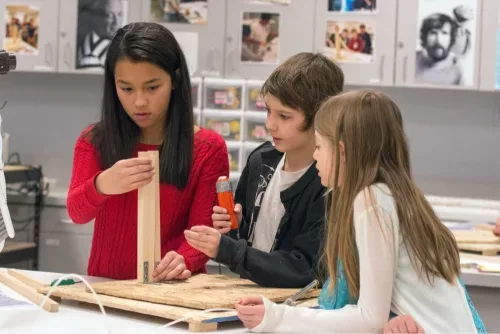 Replacement Levy
Levy Expense Breakdown
The 11% made up by the levy represents over $8 million each year invested directly into students' education and well-being. It funds school nurses, athletics, music, special education, advanced placement materials, and more.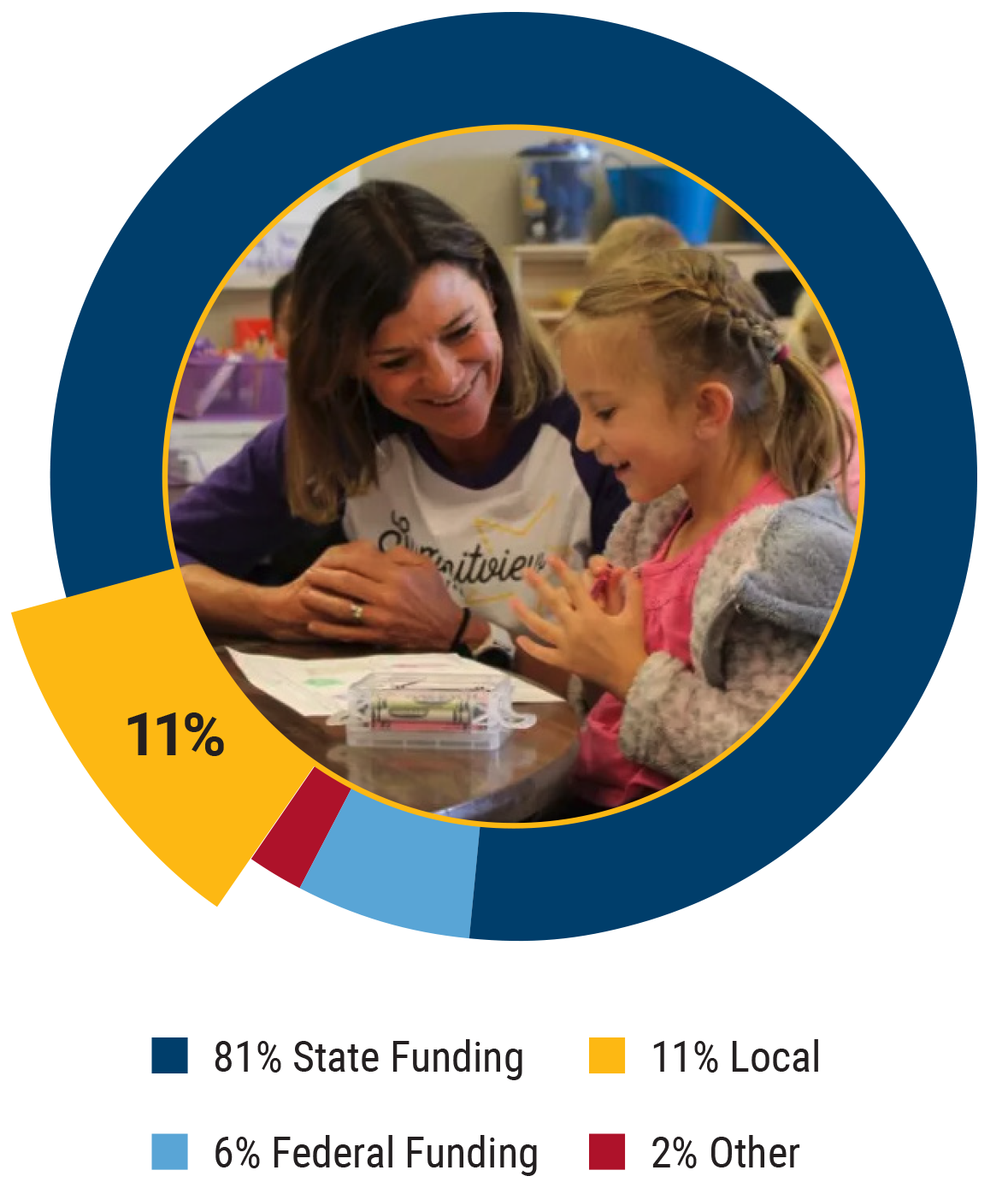 The replacement levy is not a new tax.
If approved, this levy replaces the one expiring in 2022. The replacement levy will be in effect for four years and will allow us to continue funding essential programs and services for students like athletics, band, advisors, and more.
Year

Levy Rate


(per $1,000 assessed value)
2018
$2.55
2019
$1.50
2020
$1.77*
2021
$1.25*
2022
$1.43*
2023-2026
$1.50
*Outlier rates due to Levy CAP change and District modification guidelines.
The replacement levy funds programs and services students need for their success.
52% - Educational Support (Staff, Health Services, Transportation, etc.)
29% - Student Activities and Learning (Athletics, After School Activities, Coaches, Advisors, JROTC, AP Programs, etc.)
14% - Facilities, Operational Building Needs
5% - Technology, Communications, and Security (Staff, Equipment, Educational Technology, etc.)
The levy helps provide staff to support students.
The chart below illustrates an example of the gap between what state funding accounts for and what our district needs.
| Position | State-funded for* | District Needs |
| --- | --- | --- |
| Counselors | 9.52 | 14-15 |
| Nurses | 0.76 | 8-10 |
| Psychologists & Assistants | 0.13 | 4-5 |
| Technology Staff | 2.73 | 9-10 |
| Facilities, Custodians, Maintenance, and Grounds | 26.95 | 50-51 |
*The term funded is not entirely accurate as the funding equation takes an average salary and applies to the position of certificated or classified regardless of experience, skills, or trade.
Total support if the levy does pass.
A levy is comprised of two components: local tax dollars and state match Local Effort Assistance (LEA). When our community passes a levy, the state invests additional funding into our school district through Local Effort Assistance (LEA). This totals between $2.5-$2.7 million dollars each year.
If the levy does not pass, we lose local dollars and state matching funds totaling approximately $8.9 to $9.5 million over the next four years.
Estimated Local Effort Assistance LEA:
State Match on Levy

2023

2024

2025

Estimated Levy Amount (F)
$6,408,530
$6,568,743
$6,732.962
Voter Approved Levy Rate (R/F * $1,000)
$1.50
$1.50
$1.50
Estimated LEA Payable Calendar Year
$2,563,668.54
$2,701,268.24
$2,794.658.75
Total Support if Levy Does Pass
$8,972,198.54
$9,270,011.24
$9,527,620.75
The replacement levy contributes to the success of our students, schools, and the community.
Thanks to your continuous support we can maintain the highest quality athletics, fine arts, and academics; clean, safe environments; and additional staff to maintain low class size.

FAQs
Levies = Learning and Operations
Bonds = Buildings
Levies and bonds are used for different things. Levy dollars pay for educational programs and day-to-day operations of schools, including: Teacher and staff support, extracurricular activities, classroom supplies, safety and security staff, etc.
Bonds pay for facilities, including: New construction, replacement schools, building upgrades, e.g., new roofs, heating and cooling systems, safe and secure entrances, remodeling and expansion, etc.
The state does not fully fund all WVSD208 programs. In 2018, the state changed the way it funds public education by lowering local school taxes, NOT eliminating local school levies. The state authorizes school districts to levy up to $2.50 per $1,000 of assessed value for local control of student programs.
The state tries to balance revenues between large and small school districts with "equalization" funds. The idea is to provide all students across the state with equal educational opportunities. Our schools depend on levy and levy equalization funds to maintain the highest quality academics, fine arts, and athletics. Local dollars combine with state-matched funds, so if the levy fails we lose both local dollars and "free" state funds.

This is not a new tax. It replaces the levy that expires in 2022.
The levy pays for things like early learning programs, athletics, fine arts, advanced placement offerings, STEM, school nurses, counselors, JROTC, music, drama, maintaining low class sizes, technology, security, and more!

We do our best to estimate the collection rate each year based on preliminary early November AV reports from the county. We need to have board approval and submission to the county of our upcoming collection amount by mid-November but unfortunately the county does not certify the actual AV for the new tax year until the end of December/January . So, there will be slight adjustments made to the AV in those 45 days, but we do our best to be as accurate as possible given the data we receive from the county in early November. We do take into account historical data and do our best to account for any potential fluctuation.
Example from Yakima County Assessor: 2022 tax template (AV and tax amounts used are just for convenience)
| | | | | | | |
| --- | --- | --- | --- | --- | --- | --- |
| State School Levy | 1.91645642 | $471,300 | $903.23 | 0.00000000 | $471,300 | $0.00 |
| State School Levy Part 2 | 1.03426811 | $471,300 | $487.45 | 0.00000000 | $471,300 | $0.00 |
| West Valley School | 0.00000000 | $471,300 | $0.00 | 1.45013270 | $471,300 | $683.45 |
| West Valley School Bonds | 0.00000000 | $471,300 | $0.00 | 1.96975809 | $471,300 | $928.35 |
In an effort to address the state's constitutional duty to fund basic education, in 2017, the State Legislature changed the way Washington funds K-12 education. The changes affect:
Property taxes imposed by the state
Certain voter-approved property taxes imposed by school districts- Local Levy
As you can see from the above table, there are 4 areas of tax that are related to schools.
State School Levy Part 1 and 2: The first two types of property taxes are initiated by the state and not the school district. This tax is due to the State legislature change (McCleary Decision) and helps support the entire Washington state public school system. This tax is assessed to all Washington State property owners (unless pre-qualified for an exemption). Refer to RCW 84.52.065 for additional information. The foundation of all property tax levies, including the state school levy, is uniformity in taxation.
Under the law, county assessors must value all taxable property at 100 percent of true and fair market value (RCW 84.40.030, 040). All 39 county assessors value property every year using mass appraisal techniques. This ensures property owners pay what is truly due for the state school levy.
The West Valley School: Bold print above. This is the local (Levy excess) tax that helps specifically support the West Valley School district (not the entire state) and the student's needs. This is the current Levy that is being proposed and is a continuation of an existing Levy passed in 2018. This is not a new tax. As you can see, the goal of the West Valley school district is to maintain the $1.50 rate. Just for your knowledge, the Levy lid for this collection is up to $2.50, but West Valley has continued to maintain one of the lowest rates in the valley. (Please view the FAQs for additional information on how we compare to other districts in collection rates and LEA.)
The state system does not fully fund our local educational and operational needs. They use a formula to generate certain staffing levels based on the number of students the district serves and then assigns a standard salary value to the position no matter the experience level and/or trade for the position.
For an example: Our district, under the current state funding formula is funded approximately for: 0.763 Nurses; 2.73 Technology Staff, 0.91 Security Staff for the entire district that serves over 5,000 students. This is just a small example of where the state funding for education falls short. The replacement levy will allow us to continue funding essential programs and services for students like athletics, band, advisors, educational support, and more.
The West Valley School Bonds: This is the tax for the local Bonds (This is not Levy) that were passed to help build new schools in our district. (Refer to difference between Bond and Levy in our FAQ for additional information)