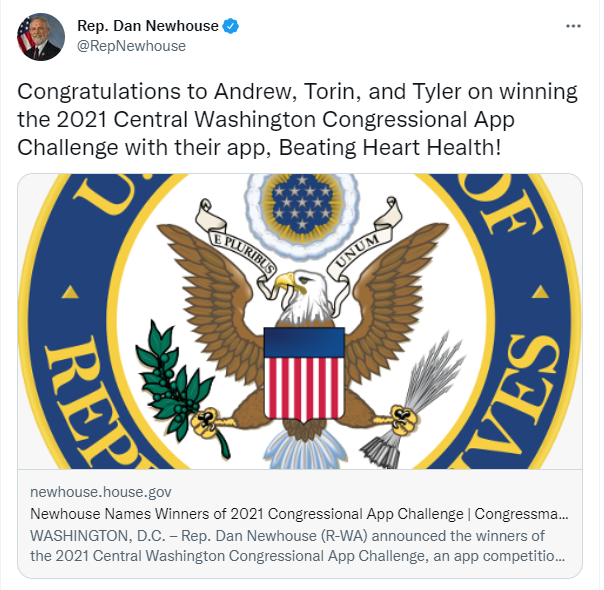 West Valley Innovation Center Students-Winners of the 2021 Congressional App Challenge
Jan 5, 2022
Congressman Dan Newhouse announced the winners of the 2021 Central Washington Congressional App Challenge, an app competition for Middle and High school students. Three of West Valley's Innovation Center students include Andrew Modine, Torin Rauch, and Tyler Iverson and have been named the competition winners for 2021. Their winning app, Beating Heart Health, aims to promote teen health and wellness by offering tools to practice and improve mindfulness and healthy sleep habits.
"Congratulations to Andrew, Torin, and Tyler on their winning app, Beating Heart Health!" said Rep. Newhouse. "Ensuring American students are equipped with the necessary tools to succeed in an increasingly competitive global economy is of paramount importance. Each year, I am impressed by the enthusiasm for STEM exhibited by Central Washington students who make submissions to the App Challenge, and I am confident that our region will continue to cultivate young professionals who will be leaders in the field."
The winning app was selected by a panel of expert judges from the Pacific Northwest National Laboratory. The winners will receive a computer science mentorship session with scientists from the laboratory. The winning app will be featured on a video display in the U.S. Capitol building, as well as House.gov and the Congressional App Challenge website. Proud of the students and team at West Valley Innovation Center!
---